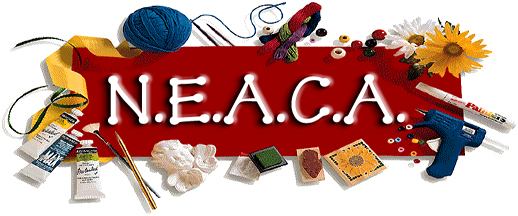 Since 1973, NEACA has promoted the study, appreciation, enjoyment and preservation of original handicrafts.
The goal of our non-profit organization is to encourage craftsmen to continue and improve their crafts through workshops, meetings and craft shows. To date, there are nearly 100 individuals registered as
members of NEACA offering a wide range of handicrafts.
All proceeds generated by the NEACA shows are used to provide donations to Huntsville charities and 2 or 4 year scholarships for local students. Since 1973, NEACA has donated over $850,000 to Huntsville area charities
in addition to providing scholarships.

Please enjoy the photos and information contained on the following web pages,
and thank you for taking time to visit our site.
Now accepting applications
for the
Fall Craft Show
September 19-21, 2014

Show Times:
Friday & Saturday
9:00 a.m. - 7:00 p.m.
Sunday
12:00 p.m. - 5:00 p.m.

Click here to register

Please apply as soon as possible.
Show Chairman is Annie Hannah
(256) 880-7987

For more information, call
Teri Bennett: (256) 859-0511
or Jeanne Chandler: (256) 883-4028
Visit Our Featured NEACA Member Websites:
Classic Folk Art (Carol Baran)
The Country Goose (Shirley Petitti)
Eggsquisite (Clara Lee)
Eggstraordinary Collectibles (Mike Baran)
Smocking by the Yorks (Aritta York)
StarGazer Creations (Ann Cochran)
CM Designs (Carmen Mastain)
New Creations (Jeanne Chandler)
Responsibility for quality and fulfillment of advertised products lies with the advertisers. Though NEACA will not knowingly
publish fraudulent materials, we are not liable for any damages arising from the purchase or use of any products. Should there
be any consumer complaints regarding goods purchased from our advertisers, we would appreciate written notification to that
effect to aid our own screening.
All images and text contained within this website are the property of NEACA.
Please do not copy or reproduce without permission.
© 2001-13; NEACA