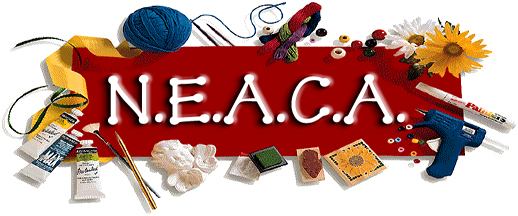 NEACA's 2014
Fall Craft Show
When:

September 19 - 21, 2014

Where:
Von Braun Center South Hall
700 Monroe Street
Huntsville, Alabama

Hours:
Friday & Saturday, 9:00 a.m. till 7:00 p.m.
Sunday, 12:00 noon till 5:00 p.m.

Show Chairman:
Annie Hannah
256-880-7987

Show Committee:
Shirley Petitti, 256-883-2199
Teri Bennett, 256-859-0511
Sigrid Burke, 256-650-5201
Ann Cochran, 256-539-9055
Jeanne Chandler, 256-883-4028
Mary Lou Faulkner, 256-882-0713
Priscilla Laney, 256-881-0696
Faye Whitt, 256-533-3283


Mail Application To:

NEACA Fall Show
Attention: Annie Hannah
2100 Mythewood Drive
Huntsville, AL 35803



Entry Deadline:
August 8, 2014
Show Information
All spaces in the Exhibit Hall are 10' x 12'.
Space fee is $225.00 per space.
Spaces will only be held until 7:00 p.m. Thursday unless the Chairman is notified.
Craftsmen will be notified of acceptance or rejection.
Benefiting
Local Charities & Thomas W. Davidson Senior Center
Set Up Times
September 18, Thursday, Prior to Show (8:30 a.m. - 7:00 p.m.)

Notes
Free Admission to the public
Over 150 Craftsmen
25,000 Attendance Expected
General Information
There will be NO admission charge to the general public.
Craftsmen desiring adjoining spaces are required to mail individual applications together.
Applications must be complete. No hand carried or phone reservations accepted.
Applications must be mailed. 3 Photos plus SASE (4 1/8 x 9 1/2" or larger) must be submitted with applications. Applications processed without a self-addressed, stamped envelope (SASE) will be charged $5.00.
Early application does not necessarily mean acceptance into the show.
NEACA prohibits the use of alcoholic beverages on their premises.
Craft categories will be limited to maintain a balance in the show.
Parking passes available only if prepaid with application.
No commission will be charged. State and local taxes will be collected.
There will be security on duty each night and the Exhibit Hall will be locked.
Concession stand in Exhibit Hall will be open during show hours (hot dogs, hamburgers, popcorn and soft drinks). There are restaurants within walking distance of the Von Braun Center.
Checks for insufficient funds are just cause for removal from the show. A $30.00 handling fee will be charged on checks for insufficient funds.
There will be a $25.00 handling fee on all cancellations. There will be NO refunds on cancellations made within 30 days prior to the show.
Rules
Craftsmen must register with the show chairman before setting up. The chairman's tables are at the front center of the exhibit hall, and will be marked with a sign.
This is a juried show.
No "Sale" signs or "Mark-Down" tags will be permitted.
The craftsman must exhibit a finished craft. the selling of parts and supplies is prohibited.
Any exhibitor planning to offer food items for sale must submit copies of their business license and health department inspection with their application.
Craftsman must be present for the full duration of the show.
Each craftsman must furnish his own display equipment an accessories. The Center will have tables and chairs which may be rented. the cost of a six or eight foot table is $30.00 each and the cost for chairs is $2.25 each for three days.
Phone hook-ups for credit card use are $100.00 with application or $200.00 at set-up.
Electricity is available at the cost of $50.00 per booth (up to 30 amps) and $100.00 (over 30 amps) for the duration of the show. You must furnish your own electrical cords. Electricity fees not prepaid will double at set-up.
Tables will be draped to the floor on all sides. backdrops and displayed items thereon shall not exceed a maximum of 8' high and must be finished front and back.
Each exhibitor will stay within the allotted space including provision for entrance and exit. This applies to overhanging exhibits as well.
When using stains, paints, etc. a protective covering must be placed on the floors, under and around work. No paint or other materials may be sprayed during the show.
All exhibits must be in place by 8:00 a.m. on the opening day of the show. Each day exhibitor will have booth uncovered and ready for business 30 minutes before opening.
If a member and non-member show together, the non-member rate will apply.
Unprofessional conduct and/or failure to comply with show rules are just cause for removal from the show.
Due to show safety considerations, children who are non-participating craftsmen are not allowed to attend shows with exhibitors. This does not apply to teenagers who come to help set-up or sell.

A PDF copy of the application can be downloaded here for printing.

If you need access to the free Adobe PDF reader, click here.
Print Out - Fill Out - Enclose Payment - Mail to:
Annie Hannah
2100 Mythewood Drive
Huntsville, AL 35803
(256) 880-7987

If you would prefer an application be mailed to you, please contact Fin Pendergast, finzin@earthlink.net
There is no extra benefit for early entries

NEACA would be happy to mail an application to you anytime after our mailing date for each annual show

Please send an email with your complete mailing address, and phone numbers.

Responsibility for quality and fulfillment's of advertised products lies with the advertisers. Though NEACA will not knowingly publish fraudulent materials, we are not liable for any damages arising from the purchase or use of any products. Should there be any consumer complaints regarding goods purchased from our advertisers, we would appreciate written notification to that effect to aid our own screening.